Batchex Features Description
Read below to find out why Batchex provides the best payment distribution platform available today. We are confident that we provide a complete payout service that can fit any company's needs. See why it is an easy decision to outsource your outgoing payment processing to our team.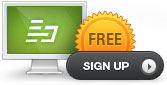 Free account and setup
Get started simplifying your payouts today by registering for a free account instantly via our website. No obligation, no wait, and no fees. Take a look around and see how we can service your needs. Your account will let you see the process and how easy our system is to use.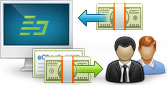 Cost of Service
You are not charged anything if you don't use our service. We do not charge a setup fee, a monthly fee, or any other kind of "service" fee. The only cost associated with using our service is the per payout fee. Check payouts sent to the United States are $0.99 per check sent. No hidden fees. PayPal MassPayment fees are only $0.49 per payment. The fees for ACH and Pre-Paid Debit card payouts will be available when they are launched shortly.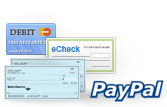 Flexible payout options
Our core service functionality provides check payouts that are printed and mailed by our system each day. Check payouts are still a hugely popular payout method, especially for irregular or non-recurring payment distributions. More than 70 Billion checks are still sent each year, much more than all electronic formats combined. We continue to innovate by adding additional payout methods to choose from. PayPal MassPay payments are ready to use today. These are a great alternative to checks since the recipient gets their money immediately- no waiting for checks in the mail. We are also rolling out direct ACH (eCheck), and pre-paid debit card payments. Our solution even has the ability to send mixed payout types in a single batch of payments.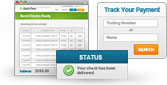 Payment status reporting
Submit your payout batch to us and track every step of its progress through our system. For PayPal and Check payouts, we can even confirm that payment has been received by the recipient via our PayPal and bank account integration for accounts that want full tracking of their payments.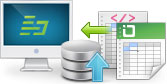 Accepted input formats
No matter what format you have your recipient data in, we can use it. You can submit small, simple payout batches by entering the payouts via our website interface. For larger batches, you can choose to submit data via an Excel Spreadsheet using our batch template file, or integrate programmatically using our Application Programming Interface (API) for a completely automated solution. We can even work with other payout formats if you have them like flat XML files. We are flexible and can suit whatever need you have.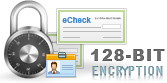 Secured system
We take security seriously and don't overlook anything when it comes to protecting our customers' data. We start with website encrypted and store all sensitive information that we may receive in an encrypted format. Combine this with strict firewall rules and a locked-down server OS to keep our system and service as secure as possible. We work toward improving this area every day.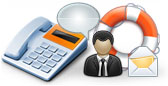 Customer support options
When you need help, we are here. You can call us toll-free at 877-825-8525. You can email us using our contact form. You can also view our knowledgebase in our Help and Support system. We have developers ready to walk you through your Batchex integration at every step of the way. When you sign up for an account, you get your own dedicated account manager that you can call on anytime at any stage of your relationship with us. We are at your service.
Get started with the best payout distribution platform service today!
sign up now